Building a mobile application and web portal to handle large amounts of health data in real time and incorporate gamification to drive behavioural change.
The Challenge
Active aimed to become a leading B2B health tech provider that helps enterprise organisations make physical and mental wellness an integral part of their company's culture.
Many employers face day to day challenges due to losses in productivity, low levels of engagement amongst employees and difficulties in attracting and retaining top talent.
Active wanted to solve these challenges by developing an employee-centric mobile technology solution that keeps employees happy, healthy and engaged in the workplace.
The Solution
Early customer research was conducted with potential customers to validate the problem and identify some high level needs.
The findings were used to develop a static screen prototype using Test Flight and circulated with a handful of potential customers for initial feedback. Utilising the feedback, an MVP was designed and developed then tested with a pilot group of 500 customers.
Security features such as Single Sign On (SSO), data encryption and penetration testing were an important consideration due to the size of Active's customers and personal data being stored.
After the MVP was developed, AI functionality was identified as an important long term goal so a full data migration from AWS to Google Cloud Platform was performed.
Continuous feedback, A/B testing and feature prioritisation guided the development of version 1.0 of the mobile application and web portal before being rolled out to 30,000 new users. Additional product features were prioritised and developed based on customer feedback.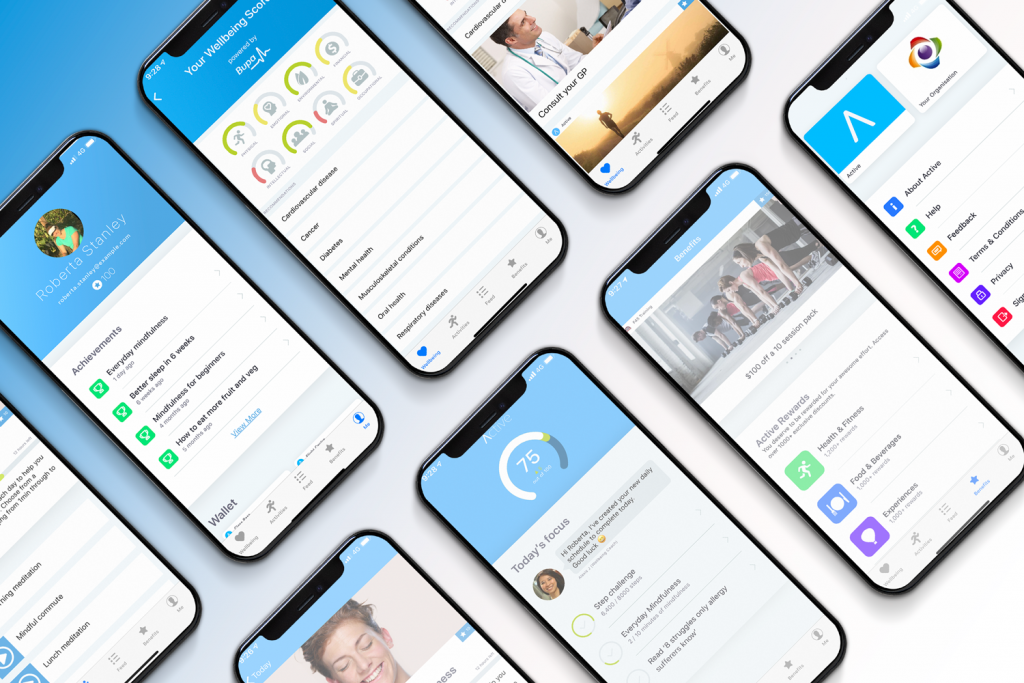 Capabilities
Over the course of 4 years, an array of technical capabilities were needed to develop the solution including UX and CX Design, Data Analytics and a wide range of engineering for third party integrations.

The End Result
A mobile application for iOS and Android were developed along with a secure web portal for administration activities.
Key features included:
1) Challenges and Programs for sleep, meditation, nutrition and physical activity
2) Wearable Integrations for Fitbit, Apple Health, Google Health and Garminand leaderboards
3) Gamification including move to earn, daily challenges, social interactions
4) Rewards Marketplace
5) Content Distribution targeted at an individual level
6) Analytics Engine and Dashboard with real time insights 
Active was able to increase market share and scale its business globally across Asia Pacific, USA and Europe.Customers reported between a 2-5x ROI based on outcomes of its health and wellbeing programmes. 
Active was approached twice to sell its technology IP and a full code audit and technical documentation review was conducted prior to negotiations.