Creating & maintaining change, on both a personal level or a larger scale, is hard. CRED. aims to educate & enable individuals to take small daily actions to create sustained change & be part of the larger collective good. DV transformed the CRED. app to allow individuals to create, record & measure their own personal transformation.
The difficult conversations are always the most important…
The initial intention was to add additional functionality to an existing app built on hybrid mobile development tool FuseTools. During an initial analysis, the existing app was found to have issues regarding scalability & further development.
CRED.'s DV Producer Jithesh suggested that replicating the functionality with a new design for a native application would be beneficial for the long-term goals of the business.
Having agreed to the proposed roadmap, Ronan & Cred. began their first 20 day sprint. 20 days, fixed costs & fixed outcomes.
Sprint 1 // Rebuild
The first 20 days was used to rebuild the app with a new UI and the same functionality in native Android & iOS. Rebuilding the app with zero documentation for the existing system was a challenge, but was completed by the development team within the first module.
Sprint 2 // Additional Functionality

Users were able to record feelings at any point of time, record the target values for each of their actions and self-registration of users through a web link.
Sprint 3 // Additional Functionality

Weekly progress summary graphs & statistics were added & users were allowed to personalise their actions rather than be assigned them by the program administrator.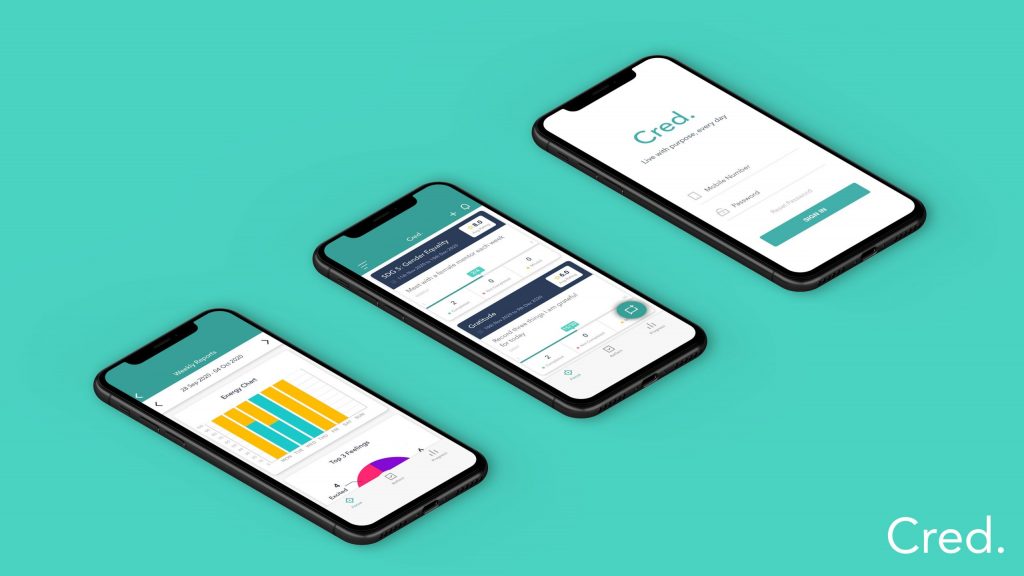 Solution
Native iOS – Swift & Native Android – Kotlin

API
.NET and database MSSQL

Design
5-day Design Sprint

CRED.'s challenge accepted in the US.
CRED. recently completed a 30-day mental health & well-being challenge with 30 students across four different colleges in the United States with overwhelmingly positive results. 
An independent evaluation commissioned by their US partner revealed 85% of participants were either likely or extremely likely to continue actions after the 30-day trial. 
The challenge aimed to provide students with a platform to navigate a time of uncertainty & build new, sustainable habits through three areas: Focus, Move & Connect.