"What next..?" …A question faced by all entrepreneurs but particularly 'non-technical' founders that require tech solutions. Even knowing where to start can be a challenge. Having struggled with previous tech partners, Rupert Ballinger, CEO & founder of Wundar, recruited Digital Village to guide him through the process of developing their private mentorship platform.

Facing a difficult problem
Rupert had spent the previous 12 to 18 months conducting customer research & was sure his private mentorship platform served a real purpose. It was time to start developing a product but not coming from a tech background put him in a daunting position.
"It was challenging," he recalls. "It was hard being a non-technical founder. I had trouble finding the right technology partner to help build Wundar & take me on that journey. I was really looking for someone to sort of hold my hand and help educate me and my team and give me the opportunity to learn about what we're actually doing and how to do it."
Rupert had raised a considerable amount of seed money but spent much of it with previous agencies building prototypes (too much by his own admission) that continued to fail. He felt previous tech partners were too focussed on the tech itself rather than helping him develop his initial idea into a product that solved a real-world problem.
"It's key to find a partner like Digital Village, who can really roll up their sleeves and get into the trenches with you at that early stage and really help you on that discovery phrase. It's the biggest challenge & I think it's the software agencies that need to be responsible for helping startup finders find that market fit without spending too much money."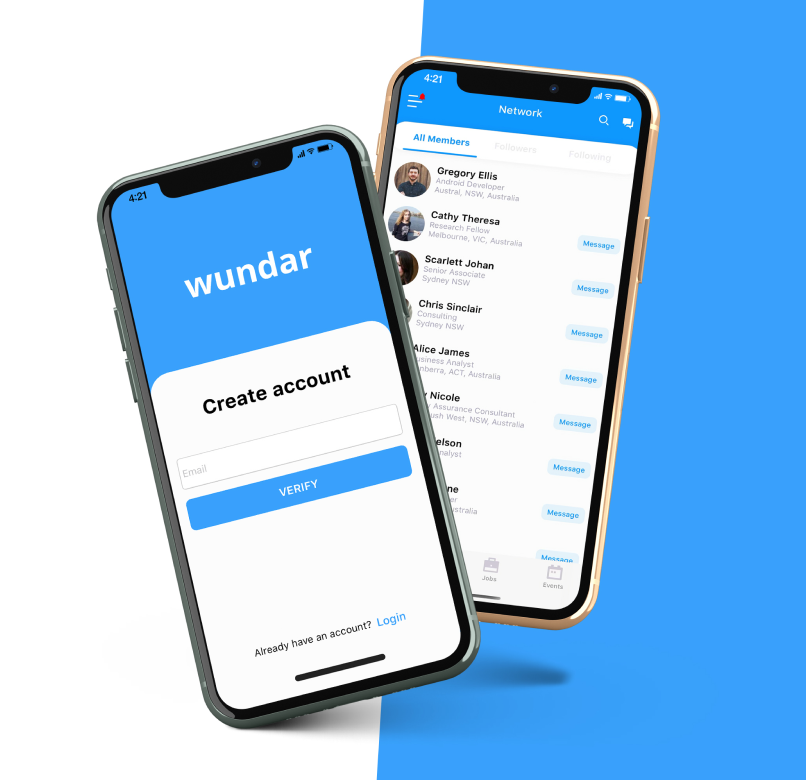 Solution
Native Mobile Application

API
Python, Angular Javascript

Design
Sketched prototype through design sprints.

Hosting
Amazon Web Solutions

Key Features
Profile Setup, Private Social Network (invite only), Private Groups, Newsfeed, Job Search, Events and Live Chat

Module 1 // Proof Of Concept
Functions such as onboarding organisations, user registration, profile set up. Mod 1 allowed Wundar to get early users on board & experience the app to determine what the next module of work should include.
Module 2 // Add Features
Introduced a newsfeed, the ability to create content posts with text, image, and video. The MVP was released to both the App Store & Google Play Store. Real-time chatting was added with the ability to share images & documents. Improvements/ fixes were made to features developed in Modules 1 & 2.
Module 3 (ongoing) || Testing and user feedback
Trial user feedback was gathered & improvements made based on the user experience of the new & existing features.
Wundar Launches
Having met all requirements, Wundar has launched as two native apps on the App Store & Google Play Store. The service is being trialled with three different groups & 50 new users are being onboarded each week. As a partner of Wundar, Digital Village are continuing to develop further iterations of the mentorship platform & share Rupert's excitement for the future.