Exploring Value Based Pricing- a Design Thinking Workshop
On the 7th of March 2019 we held our 6th Digital Village Monthly Meetup. 
Value Pricing is a process of pricing a project based on its value to the customer as opposed to using traditional time and materials pricing method. Value pricing is still very early in its adoption within the software development profession. So we ran a workshop style Meetup using Design Thinking methods for us to collectively explore our concerns, considerations, possibilities and opportunities around value pricing. We then broke things down and agreed collectively on solutions to those problems raised.
This article documents the process and the steps we took throughout the design thinking process and summarises key problems and potential solutions.
Step 1: Territory Mapping
The first thing we did, was have everyone write down their assumptions, concerns, considerations and anything they know or understand about value pricing. Everyone is provided a pen and sticky notes and are asked to describe their understanding of Value Pricing.
Step 2: Affinity Cluster
Categorise or group the inputs of everyone into common or similar themes to categorise patterns based on everyones' input. It was interesting seeing the diversity in thinking and opinions of people and it was quite a challenge to then group the thinking into 3-4 clusters.
We determined 3 key clusters from the collected inputs and they were:
Cons and Resistance
Benefits
Value Process & Value Determination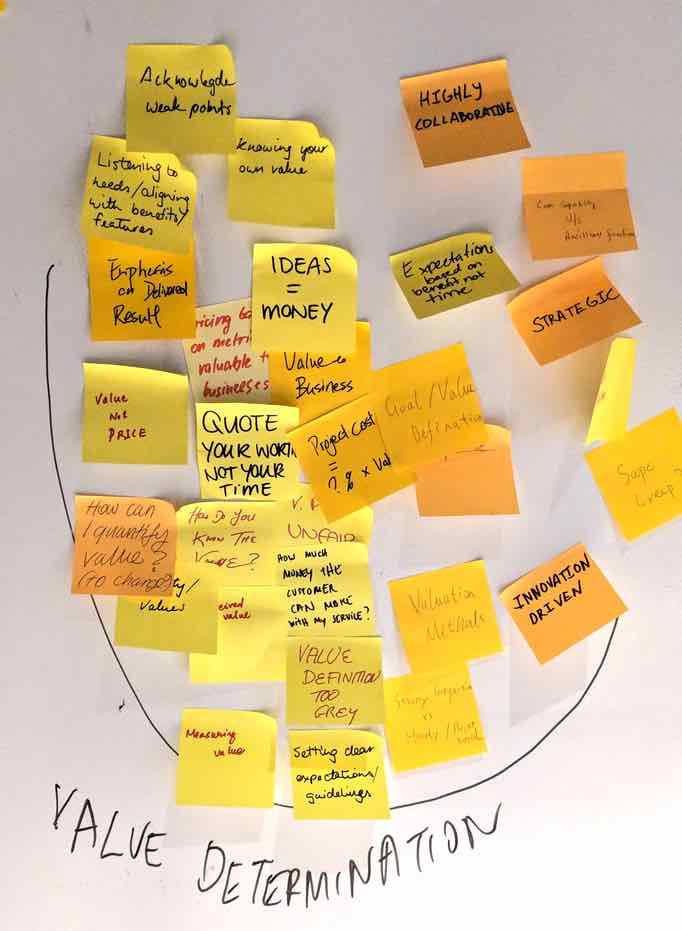 Step 3: Define a Problem Statement
We broke everyone into 3 groups and each group was allocated a cluster and given the task of defining a problem statement that best represents that cluster.
A problem statement is structured by completing the following sentence:
"How might we…"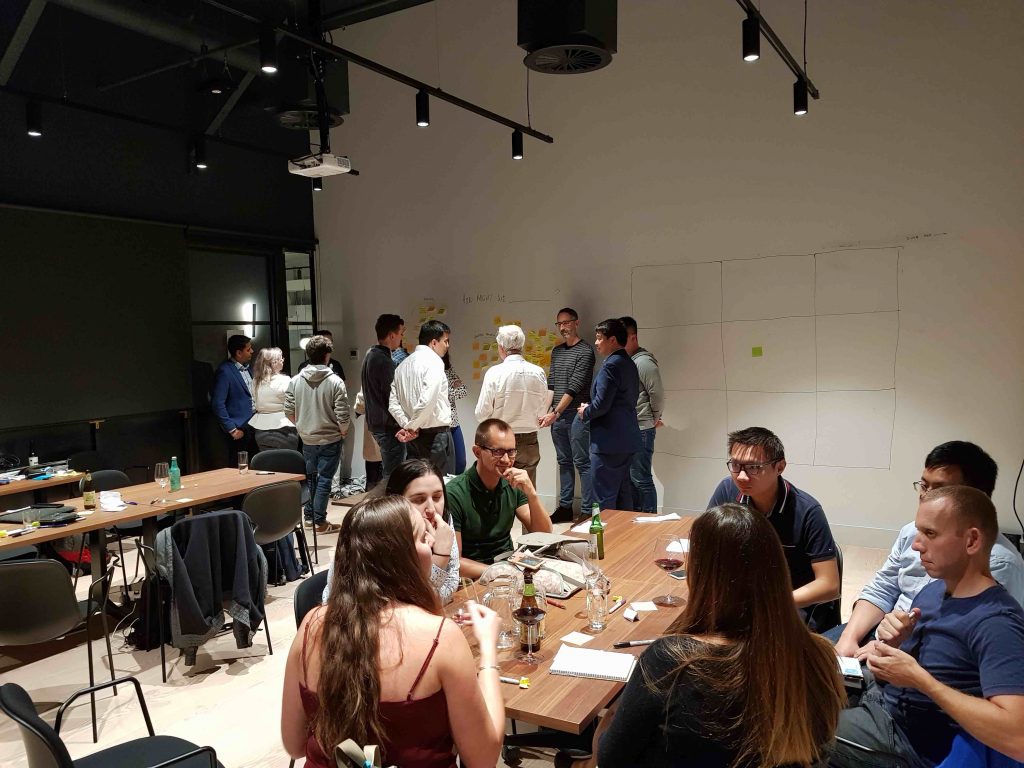 The problem statements that were developed were:
How might we address the needs and expectations of the customer in a collaborative and efficient way?

How might we understand the core value proposition? How might we assess/evaluate the commercial value proposition?

How might we measure and communicate value?
Step 4: Creative Matrix
Once the 3 groups had completed their problem statement for their allocated cluster, we were ready to create a matrix to explore possible solutions to each problem statement using enablers such as technology, process and policy, and anything else that may assist in enabling the possible solution to the problem.
We then did another round exploring what would you do if you were an… airline.
Observation:

The collective intelligence of the group was fascinating. The ideas that come from each person being inspired by in-person communication and collaboration were original, dynamic and progressive. The emergence of new thinking from the amalgamation of thoughts and experience blew me away.
Step 5: Visualise the Vote
Once we had exhausted ourselves coming up with potential solutions to the problems, we individually voted on our favourite solution for each problem. This activity is carried out in one instance where everyone is to post their voting sticker on the idea that they believe to be the best. We do it at the same time to avoid people being influenced by others.  You can see the respective votes from the green dots.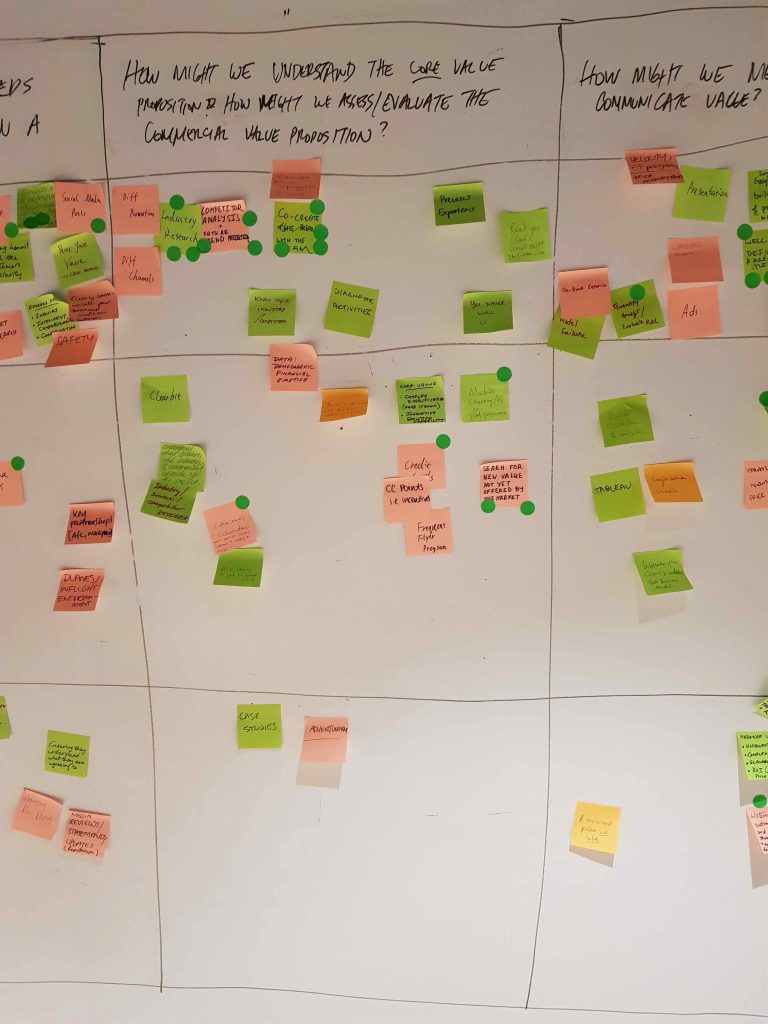 Summary
From the session we discovered that the most popular solutions to all 3 problem statements all included a common thread of transparency, collaboration between stakeholders, feedback, data collection and measurement. The collective findings show that the key elements of successfully implementing value pricing would entail engaging in open questions to determine what's valuable to the customer, co-creating solutions with the customer to address their true needs, conducting qualitative research and determining ways to quantify and measure the value of the outcomes.
Value Pricing has great potential for both buyers and suppliers to come to a mutually beneficial agreement. The better the communication, the more likely the result to be satisfactory.
The biggest take away in this for me was the way in which such completely different ideas can come to work together and produce totally unique outcomes. Most of all, it was fun.
Feedback: Rose, Thorn, Bud
In the spirit of design thinking, we took 1 minute for everyone's feedback on the event and on their experience of Digital Village in general. There was some lovely notes, and there was some valuable lessons that can be learned for us to improve what we do and what is important for people.
Rose: All the positive things a person like about it.
Thorn: Things they didn't like.  
Bud: Opportunities and suggestions for the future.